About Sparkle Commercial Cleaning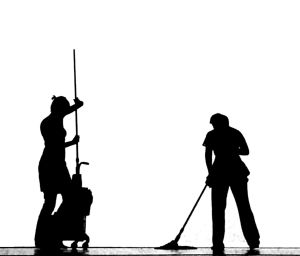 The Sparkle Commercial Cleaning is a cleaning company which is specialised in providing cleaning services to businesses and public facilities such as schools, offices, hospitals and government facilities. We have over a decade long tradition but we keep up with the newest technology and cleaning products in order to provide our clients with the best service possible. But unlike other commercial cleaning companies, the Sparkle Commercial Cleaning is focused on environmentally friendly alternatives to the harsh chemicals which are not only harming the environment but are also posing a health hazard to both our cleaning staff and clients who are exposed to the toxic fumes. We always give priority to non-toxic products which are just as effective as the harsh chemicals. Chemical cleaning agents are used only if they are unavoidable.
We offer a variety of services from daily cleaning and maintenance to deep cleaning. Our highly trained and professional staff give their best no matter for how small or large job they are hired, while every service is tailored to meet the specific requirements of our clients. We are aware that every business is a special story and that every business has special needs. For that reason we train our staff for every job separately and form teams that are visiting particular clients. That way we ensure consistency in quality of service as well as save our clients the time they would need to explain their requirements to a new team. We also offer specialised cleaning services via our partner Washforce.
Due to the increased interest in professional cleaning service among home owners, especially those who are familiar with our work in the commercial area, we have also decided to offer residential cleaning services. Many families have two full-time working parents who have difficulties creating the optimal balance between their professional and family life, and virtually no time left to run the household and take care for the household chores. With the help of our professional staff, families can finally spend quality time together and always return into a clean and germ-free homes. In addition to offering the general residential cleaning such as vacuum cleaning, carpet and floor cleaning, window cleaning, etc. we also take care for the stubborn stains on sensitive materials as well as help with other household chores such as laundry washing, closet organising, etc. Our staff is also trained to clean hard-to-reach areas such as ventilators and air conditioners in order to prevent mould and bacteria growth which can seriously jeopardise the family's health.
Just like commercial cleaning services, our residential cleaning services and end of tenancy cleaning are based on the use of safe, non-toxic and environmentally friendly cleaning products and technology such vapour steam cleaner which effectively removes the dirt and kills all the germs. In case our staff determines that a chemical product must be used, the item is removed from the house and cleaned in our facilities. In case this is not possible, our clients are provided with all the necessary information about potential health hazards and how to reduce the risk of exposure. Thanks to our experience and continuous improvement, however, harsh chemicals are used extremely rarely, especially in residential cleaning service.